WATERJET & ABRASIVEJET MACHINERY
---
POST PROCESSING SOFTWARE




Lantek Expert Cut is a CAD / CAM system specially designed to automate the programming of sheet metal cutting machines (oxicut, plasma, laser, water jet). It is the result of more than 20 years experience in close collaboration with both manufacturers and users of these types of machines. It perfectly combines machine technology with customers' programming and management requirements.

Lantek Expert Cut is designed in such way, so that users only have to follow the steps indicated by the system.

CUT WATERJET TECHNOLOGY

The waterjet technology tables are specific for each type of material, it provides reduction in speed at corners, special piercings and multihead capability.
DESCRIPTION

Perfect Score Technologies manufactures both an Abrasive Jet and Pure Water Jet Cutting Machine. The Waterjet system is an ideal machine for the cutting of various materials and is extremely versatile compared to alternative machinery such as lasers and plasmas. Waterjet cutting is performed with "pure water" for the cutting of - foam, package products, gaskets, gibson board, carpet, food, rubber, and many other soft materials. The addition of abrasive (garnet ) to the water stream provides the ability to cut - steel, stainless, copper, aluminum, granite, marble, laminated glass. In general soft materials are cut at a lower pressure range of 40,000 - 50,000 psi with hard materials requiring the higher 50,000 - 60,000 psi. The Waterjet cutting process does not generate heat; elliminating the warping of materials like copper and aluminum.

STANDARD SIZED SYSTEMS
SYSTEM SIZE OPTIONS

4' x 8'

5' x 10'

6' x 12'

7' x 12'
SYSTEM SIZE OPTIONS

4' x 4'

5' x 5'
Cantilever Designed Gantry
2' x 4'
CUSTOM SIZED & FEATURED SYSTEMS

PST has the flexibility to custom fabricate any table size. All engineering and fabrication is performed by in-house staff. Our sales team would be pleased to discuss your application in detail and propose a machine design to meet your needs. Material test cutting, by PST, is available and recommended. Test results provide a customer the opportunity to evaluate - edge quality and cut speed. PST engineering also offers specialized features such as - gantry mounted drill heads and ink printer, clamp down systems, noise abatement enclosures, conveyors, dual shuttle systems, and material lifting systems.

PURE WATER CUTTING

Based on the media to be cut, PST can offer cutting systems with cut speeds that will exceed 4000 inches per minute. Due to the PST state of the art Linear Drive motion system This speed is three (3) times that of other water jet manufacturers capability. Pure water systems are designed with the gantry across the tables short direction, this reduces gantry weight and is ideal for loading / unloading in combination with a conveyor system or shuttle system for increased productivity. Soft materials are typically cut using a sapphire orifice ranging in size from 0.005" - 0.007" at extremely high speeds with multiple cutting heads to maximize productivity.
Pure Water System, Dual Shuttles, 3 Cutting Heads
7' x 14'
ABRASIVE CUTTING

Hard materials require the addition of garnet mixed within the water stream. The abrasive delivery system consists of three components - a bulk garnet hopper, a metering device, to regulate garnet mixture, and a mixing chamber within the cutting head. Abrasive cut speed range from 1-500 inch per minute based on material hardness, thickness and cut quality. The use of a diamond orifice is common to increase cutting accuracy and provide longer replacement intervals. Based on available horsepower the typical orifice size for abrasive cutting will range from 0.010" - 0.018". As the orifice size increases the cut speed will increase by ten to twenty percent.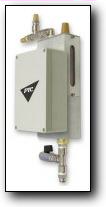 STRUCTURAL CONSTRUCTION

All PST Waterjet systems are fabricated from stainless steel construction and 100% MIG welded. Each frame includes a five year structural warranty. The high pressure water coupled with abrasive is a harsh environment. Waterjet tables fabricated from mild steel and painted begin the rust process in a short period of time and, if not periodically repainted, becomes structurally unsafe. The PST gantry system is fabricated from extruded aluminum and stainless steel machine screws are used on electrical access panels.

All PST abrasive machines have cut bed's fabricated from galvanized steel slat material mounted above the water collection tank. Slats are mounted on 1.187" centers and held into place by stainless steel comb cut support members and is designed so that slat material is easily renewable. Corru-plastic material can be easily placed on top of the steel slats and the cutting head elevated as necessary for pure water cutting of small parts.

The abrasive systems require 32-34 inches of water to dissipate the water / abrasive stream energy. Less than 30 inches of water, with time, could cause structural damage (potential hole) to the bottom of the tank. High pressure water does not have the same energy without the abrasive additive therefore a stainless steel collection trough is provided with pure water systems.
LINEAR DRIVE MOTION SYSTEM

All PST Waterjet systems are equipped with a state of the art linear drive motion system for powering the gantry and for cutting head movement. This system consists of a computer controlled linear induction motor and magnetic coupled by rail mounted inert magnet sets. This drive package transmits power without the use of any mechanical components and operates without racks/pinions, drive belts/sprockets or ball screws. Elimination of these components improves mechanical reliability and reduces maintenance.
THE LINEAR ADVANTAGE

• The best positioning accuracy in the marketplace - +/- 0.001
• No components to wear - the same level of accuracy every year!
• Repeatable Backlash +/- 0.0005 without software compensation
• No lubrication required, ideal for dirty abrasive environment
• Fully in-capsulated motor windings - simply clean with a water hose
• Maximum cut speeds exceed 4000 inch per minute
• Designed for 24 hr / 7 day operations - highly reliable technology

Rack / Pinion Issues - a common issue is premature pinion wear. Should abrasive over spray be introduced within the lubricant it accelerates pinion wear. Once the pinion is partially worn, accuracy and backlash are less than desirable. Some companies attempt to compensate for pinion wear by software adjustment.

Ball Screw Issues - have a limited table length and require backlash nuts to partially compensate for backlash concerns. Backlash nuts require periodic replacement. Limited speed capability. Lubrication is required.

Belt / Sprocket issues - the belt systems will operate at higher speeds but lack the positioning accuracy of the Linear.

SOFTWARE FEATURES

The operational software is designed exclusively for the PST Waterjet. All operational software is written and updated by PST in-house programmers. The software package is designed to read G code cut files created from the post processing software. The G code file is an inclusive cut file - designated cut speeds, lead-ins, type of hole pierce, abrasive metering.

The operator has excellent control to include:

• Feedrate override
• Pause and reverse feature.
• GO TO any location within the cut file routine.
• Array up to six independent cut files.
• Coordinate rotation X, Y

REMOTE PENDANT

A hand held control unit is standard with each system. This allows the operator to manually make adjustments in the X, Y, Z axis in a slow or fast pace. A time saving feature is the 45 degree button to simultaneously move in the X and Y axis.

DIGITIZING CAMERA / SOFTWARE

Every PST waterjet is equipped with its own digitizing software and camera system to trace a flat irregular pattern directly on the machines cut bed. The software outputs a DFX file ready for post processing to a G code cut file. Setup and file creation is quick and accurate enabling the user to handle odd shaped patterns that otherwise would be time consuming and difficult to formulate by measuring and drawing in AutoCad.

TECHNICAL CHARACTERISTICS

• All options are fully integrated in a single program, so designing a part, importing, nesting (automatic or manual), generating
the cut (automatic or manual), generating the CNC, looking at the sheet metal store, etc. will be achieved from the same
program without switching between programs.

• Production management. Processes. Lantek Expert is ready for connection to production management systems (ERP) by
means of automatic processes.

• Teamwork. Available for operation as a stand alone productivity cell, or as part of a network system.

• Parts management and sheet store with open databases. All parts info is saved in databases organized in such a way that
users can easily locate the part and sheet required, as these are classified by fields like material, thickness, date, customer,
etc. The remnant automatically generated by the system is saved in the sheet inventory like any other sheet metal and can
be used for future jobs.

• Large library of parametric parts.

• Calculation of real time and cost. Lantek Expert calculates time and cost of cutting any part and also the entire sheet.Taking
into account the number of piercings, the cut length, the mark length, the material costs, the hourly machine rate, the cost
of consumables and based on the technological machine data.

• 2D design. Lantek Expert includes advanced options for geometry and edition.

• Smart Importer/Exporter. Connection with the most important CAD systems on the market: DXF, DWG, IGES, etc.

• Lantek Expert has an optional modules for calculating HVAC, DUCT parts, unfolding and 3D design.
NESTING

Automatic and manual nesting with great flexibility and maximum performance. The perfect combination of automatic and semi-automatic nesting along with powerful manual nesting functions like: copying, moving, rotating, adjoining, etc. Lantek Experts automatic nesting optimizes to the maximum the arrangement of parts on the sheet. Lantek Expert generates nestings on remnants. Just like for sheets, margins can be defined for remnants.
TECHNOLOGY

Configure and manage the type and value of lead-in/lead outs for different types of contours.

Common line cutting can be achieved on several parts or just limit to pairs of parts. With microjoints and pre-cuts.

Detects errors in the design and machining.

Lantek Expert Cut has automatic lead-ins, manual and automatic cutting, machining copy, customized machine configuration and postprocessor for all types of machine.
INTENSIFIER PUMP TECHNOLOGY





KMT Waterjet Systems ( formally the Ingersoll Rand pump division ) engineers and manufactures the finest High Pressure Pumps in the world market. KMT sells more pumps worldwide than any other high pressure manufacturer. Their product reliability, performance, and service support is superior to all providers. Competing pumps in the industry are not designed to the same rigid engineering specifications, resulting in frequent maintenance intervals, loss of production time and high spare part expense. Some pumps are not intensifier pumps but direct drive units whose initial capital cost maybe lower but they require multiple times the maintenance effort for the life of the pump. KMT manufactures a full line of intensifier pumps:

Model S-30 30 hp

Model E-50 50 hp

Model SL-V series 30 , 50 , 60, 75, 100, 150, 200 hp


For intensifier pump specifications visit:
http://www.kmtwaterjet.com/


Ships FOB Dallas, TX

© COPYRIGHT 2014 ALL RIGHTS RESERVED PERFECT SCORE TECHNOLOGIES

Click on an image for a larger view
Click image for a larger view
Click image for a larger view



4012 Bronze Way
Dallas, TX 75237
© COPYRIGHT 2014 ALL RIGHTS RESERVED PERFECT SCORE TECHNOLOGIES
Ph: 214-331-0002
Fax: 214-331-0013