---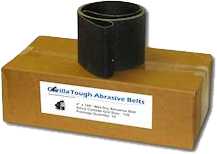 Part # UEA-4x106x120

Qty

Unit Price

Box/Case Price

1 Box

$6.75 ea.

$67.50 / NA

2-4 Boxes

$6.25 ea.

$62.50 / NA

5-7 Boxes

$6.00 ea.

$60.00 / NA

8 Boxes = 1 Case

$5.70 ea.

$456.00
Gorilla Tough Abrasive Belts may be used with Twin Seaming or Vertical Wet Belt Machines. The 4" x 106" size fits most Twin Belt Seaming and Vertical Wet Belt Machines and are for use in wet or dry operations.


The tough polyester cloth backing resists stretching & edge tears and is resin bonded with 120 grit silicon carbide abrasion.

PST high performance abrasive belts are packaged and sold at 10 belts per box or a quantity of 8 boxes ( 80 belts ) in a case.
* All Pricing is FOB Dallas, TX


Ph: (214) 331-0002
Fax: (214) 331-0013
4012 Bronze Way
Dallas, TX 75237
---
Hours of Operation (CST)
Monday - Friday : 8am - 4:30pm
---
Purchases paid by credit card will impose a 1.5% fee. This excludes debit card transactions.