---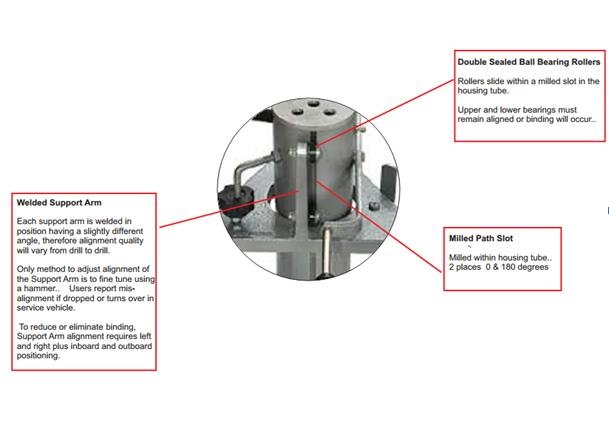 Fact - Not all glass drills are equal!

Inferior Design Used by:
C.R. Laurence & Baldwin - Guide Way Design

Design produces Poor Accuracy.
Lower Cost to Manufacture.
Not user friendly due to friction and binding issue.
Requires ongoing alignment maintenance.
Does not tolerate common abuse within service vehicles.

Read Why:

Superior Design Used by:
PST Tripod Drill

Most Accurate Design on the Market.
Superior Engineering to extend Service Life.
Sold Factory Direct.

For use with Diamond, Steel or Brass Tube Drills including Spearpoint and Prismatic Drills
Operates on standard 110 volt power.
Industrial Grade 6 amp drill motor with Ball Thrust bearings..
Variable Speed 0 - 1400 rpm.
1/2" Chuck for 6 inch diameter hole drills.
Dual Adjustment System for Quick and Micro Depth Adjustments - reduces glass chipping.
Self Drilling design reduces operator applied pressure.
Ergonomic Compound Action Handle - including DU bushings.
Non-Skid Rubber Leg Caps for added stability and minimize vibration.
Only Tripod Drill sold in the market with a Carrying / Tote handle.

The PST Tripod drill is engineered with Linear Shaft Ways and UHMW Machined Slides. The drill body will raise and lower without binding providing operator precise control for years of service. Drill alignment has been further enhanced with the drill mounting alignment plate for increased accuracy. This is the only tripod glass drill offered in U.S. market with these enhanced features.


REVIEW THE COMPARISON CHART AND DETAILS PROVIDED BELOW.
٠
Price: $740.00

٠
FOB Dallas Texas

٠
Ships UPS (weight 33 lbs)



4012 Bronze Way
Dallas, TX 75237
© COPYRIGHT 2014 ALL RIGHTS RESERVED PERFECT SCORE TECHNOLOGIES
Ph: 214-331-0002
Fax: 214-331-0013