---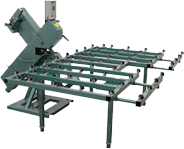 PRODUCT DESCRIPTION
The PST Twin Seamer Ball Caster Extension Table works in conjunction with the wet/dry TS106 Glass Twin Seamer. The table makes twin seaming easy because it supports the weight of the glass, allowing the operator to seam all four glass edges quickly without fatigue.


FEATURES

The superiorly constructed table is fabricated with a 14" x 22" operator cutout on one side of the table. This cutout is designed to give the operator closer access the twin seamer when edging smaller sized glass lites.

The PST Twin Seamer Ball Caster Extnesion Table is available with ball casters mounted on either 6" or 12" centers and is shipped knocked down to reduced freight expense and to reduce the chance of damage during shipment. Requires minor assembly before use.

MECHANICAL FEATURES

The PST Twin Seamer Ball Caster Extnesion Table top frame is fabricated from 2" x 2" heavy wall tubular steel. The ball casters are mounted onto the top frame. The casters are 2" diameter neoprene spherical balls and the overall height of the ball caster ( spherical ball and ball holder ) is 2 5/8". Neoprene spherical caster balls will not scratch the glass. Construction of the top frame is all MIG welded.

The PST Twin Seamer Ball Caster Extnesion Table legs are fabricated from 2" x 3" heavy wall tubular steel. Each leg is equipped with a built in 1 1/4" diameter threaded jack bolt for adjustable height capabilities. The legs are removable and attach to the table top frame with bolts. These adjustable legs allow the user to level the table without floating the floor or using shims.

Ships FOB Dallas, TX


© COPYRIGHT 2014 ALL RIGHTS RESERVED PERFECT SCORE TECHNOLOGIES
Ball Caster Table shown with Pull Out Support Leaf Extended




Ph: (214) 331-0002
Fax: (214) 331-0013
4012 Bronze Way
Dallas, TX 75237
---
Hours of Operation (CST)
Monday - Friday : 8am - 4:30pm
---
Purchases paid by credit card will impose a 1.5% fee. This excludes debit card transactions.